The University of Prince Edward Island is currently developing an Islandora 8 Research Data Management (RDM) Platform that focuses on enhancing Islandora 8 to add features to support the research data lifecycle: planning, deposit, publication, citation, sharing, and preservation. The first release of the Islandora 8 RDM Platform, planned for Q2 of 2020, will support the migration of existing Simon Fraser University (SFU) and University of Prince Edward Island (UPEI)  platforms and will include collaborative cloud-based shared microservices.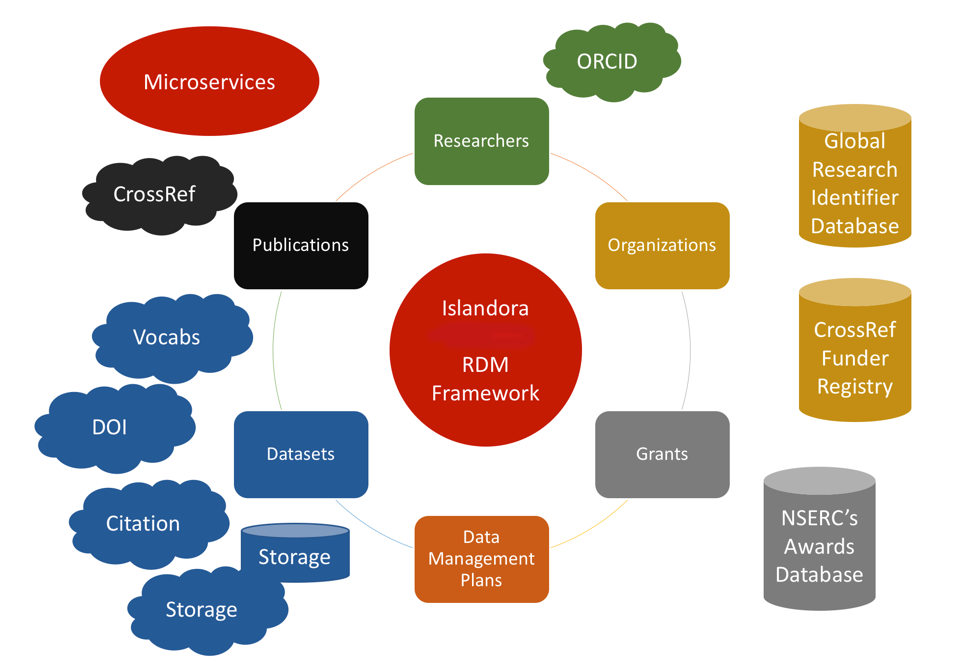 The Islandora 8 RDM Platform will include research data management features with a national linked data focus, bringing together external, locally managed, and shared services applied throughout the research data lifecycle. The development of the Islandora 8 RDM Platform includes the following features:
Metadata and Discovery

Data Object modelling

Integration of ontologies

Publish to external sources

Enrich from external data sources

Expose for harvesting

Surface in external services

Federated Repositories / Interoperability

Leverage Fedora's and Drupal's RESTful APIs

Integration with cloud-based processing services

Integration with DataCite

Integration with ORCID

Simplified deployment

Multitenancy

Scalability

Data Deposit and Curation

Improved support for large files

Simplified deposit and curation workflows

Form-based data management planning tool

Preservation

Fixity auditing (Automated checksum creation and validation)

Migration tools to support import and export of content

Preservation planning and actions framework

Data Privacy and Security

Access control and permissions

Support for emerging regulatory frameworks like the European Union's General Data Protection Regulation (GDPR)

Persistent IDs/Citability

DOI creation framework

ORCID integration

Citation generation

Data Access and Analytics

Data can be downloaded

Data visualization

Metrics integration
Islandora 8
Islandora 8 is an open-source software repository solution designed to help organizations collaboratively discover and manage digital assets using a best-practice, standards-based preservation framework. The latest release, Islandora 8 is a solution for institutions and organizations who want an extremely flexible and configurable preservation repository with increased discoverability for its users. Islandora has been installed by a diverse community with over 200 recorded installations worldwide.
Islandora 8 integrates the Drupal Content Management System (Drupal 8) and Duraspace's Fedora Repository System (Fedora 5). The types of content currently supported by Islandora 8 include Collections, Images, Audio, Video, PDF and allows other types of data to be modelled as Binary. The Islandora 8 community is planning support for Books, Newspapers, Serials, and "Compound" Objects.  
Islandora 8 allows you to create nodes, media, files, and taxonomy terms in Drupal, which are converted to RDF and pushed into a Fedora repository. It also allows you to connect repository content with microservices, small webapps that transform files to other types for display or preservation, or to extract additional metadata.